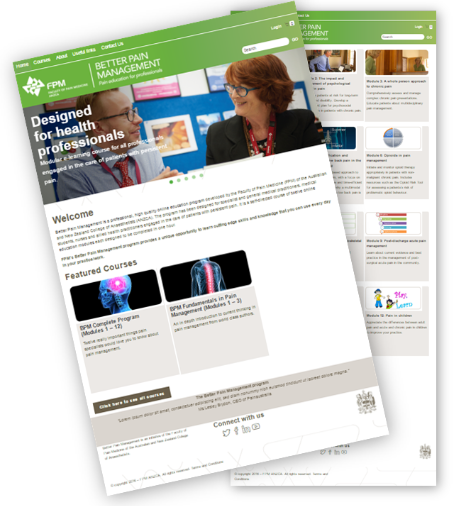 The Faculty of Pain Medicine (ANZCA) has launched a Better Pain Management program of 12 eLearning modules that will offer high-quality education for GPs and allied health professionals.
The modular eLearning program provides a total of 12 hours of skills and knowledge development for the care of patients with pain.
Designed with a range of disciplines in mind—including general practice, anaesthesia, psychiatry, rehabilitation, neurosurgery, rheumatology, neurology, addiction medicine, physiotherapy, psychology and nursing—the program is optimised for flexible learning around a learner's specialty.
For the first time, the interactive learning program is being offered to individuals as well as organisations wishing to offer training to multiple staff.
"We are working to make access easier and more automated for individual users as well as members of organisations that would like to facilitate pain management education for their members," said Helen Morris, General Manager of the Faculty.
"We want to help as many as possible take up this very comprehensive learning opportunity."
Professional bodies would need to arrange for their own accreditation, which would allow members to accrue CPD points for modules completed.
Each module costs $38.50 or less if purchased as a bundle. The program can be accessed and purchased at www.betterpainmanagement.com.au
If your organisation is interested in this opportunity please email fpm@betterpainmanagement.com.au or phone 03 8517 5337.